Today I want to discuss the stock market's clues that a change in trend is coming. Being able to read trading charts can give you subtle clues that indicate the future direction of the market.
Stock Charts Provide Clues for Future Price Movement
A stock chart can provide useful information for identifying potential trend changes. Technical analysts often use charts to analyze price and volume data to identify patterns and trends in a stock's behavior. By examining patterns and trends in the charts, analysts can identify key support and resistance levels, trend lines, and other indicators that can help predict future price movements.
For today's technical analysis 'lesson', stock market clues that a trend change is coming, I pulled up the above chart of the S&P 500 ETF (ticker SPY). Each red or green 'bar' represents 30 minutes of market time, roughly 8 trading days of time. I've also added some moving averages and volume to provide further clues.
The chart's date range has been removed, since it really isn't relevant, what is important is to look at the behavior of the chart lines and compare them to recent history. Please remember that the stock market simply represents investor sentiment and psychology at that particular moment in time, so learning to read the charts can give you clues as to how investors are feeling and whether they are currently focusing on buying, selling or neither.
Looking to the chart, what we see is obviously a fairly consistent downtrend, but I wanted to point your attention to a few nuances that provide a clue as to the market's future short-term direction.
Short-Term Clue: Traders Anticipate Further Downside Near Moving Average
Notice the white boxes I have used to circle various price points on the chart. Notice how each time price gets close to the 20 period moving average (green line) that the price pushes off of the line and continues lower. This is an important short term clue showing that traders are expecting more downside and using the moving average to add to their short positions.
Resistance Turned Support: A Bullish Signal for Traders
Now for a slightly bullish turn of events in today's price action, notice near the right side of the chart, highlighted in the green box, how price here broke above the the 20 period moving average (green line) and is now using this moving average as support … bouncing off of it and moving up at each touch.
This is a very subtle stock market clue that a trend change is coming. That maybe the short term tide has shifted and buyers are stepping in, or at the very least … sellers are getting less aggressive, no longer feeding their short positions.
What Once Was Resistance is Now Support
The longer term (yellow line) moving average (50 period) is now acting as resistance which as you see had not been approached since the trend turned aggressively down. So, the trend is still down, but seeing a previous moving average change from resistance to support shows a gradual change in trend might be occurring.
Reading Between the Bars: Volume Tells a Gloomy Tale for Future Price Movement
At the bottom of the chart, I have also marked various points on the volume chart, which tell a story on their own. In fact, I generally look to volume to find clues of future price movement just as much as changes in price. So what do we see, not a lot of good unfortunately.
Generally you want to see the green bars (up bars) showing more volume that the red (down) bars. And if you look closely, what we clearly see is that the downward movements show higher volume (taller bars), and the up movements are much more condensed. This implies that there isn't a lot of buying going on, and the expectation that a rise in price is going to occur is minimal.
Bulls Miss Their Chance as Bears Claim Victory: Volume Chart Tells the Story
One important test occurred today which was a bearish victory. If you look at the far right of the volume chart, you will notice how the volume dried up this afternoon as price was sitting just below the 50 period moving average (yellow line). This was the bulls chance to take charge.
The dry up in volume signified that the bears had stopped selling and expected the price to rise. They were no longer fighting the rise in price and more or less gave up. Yet … the bulls didn't take action, and after a few bars, the bears finally jumped in aggressively to take back most of the gains of the day.
What does this all mean?
Can adding Real Estate make your Investment Portfolio safer?
Reduce Taxes, Less Volatility?
For your FREE Personalized Assessment
Bulls Face Critical Moment as Bears Ease Up: Will They Seize the Opportunity or Face More Downside?
The bears are slowing their assault, but the bulls are not yet buying. If they don't start very soon they will once again lose the battle and more downside will be coming. Tomorrow will be important as the time to act is upon the bulls, if they want it … they can take it.
Stock Market Clues That a Trend Change is Coming
These subtle clues are in the charts ALL the time … giving slight insight into the possible future direction of the market.
It is too early to get involved in this upward movement as it shows little encouragement, but at least we have some direction going in to tomorrow.
An Update on the Above
To put this post in perspective, the above commentary and chart was written on May 10, 2012. Below is a daily chart of the same SPY ETF and circled in grey highlight is the actual time block displayed in the chart above. This is a daily chart though so each bar represents a single day in the market. And, sure enough, you can see that in the short term the market went lower immediately and continued it's downward move for the next 5 days. Then afterward, it hit bottom and ultimately went up recovering all the loss that occurred that year.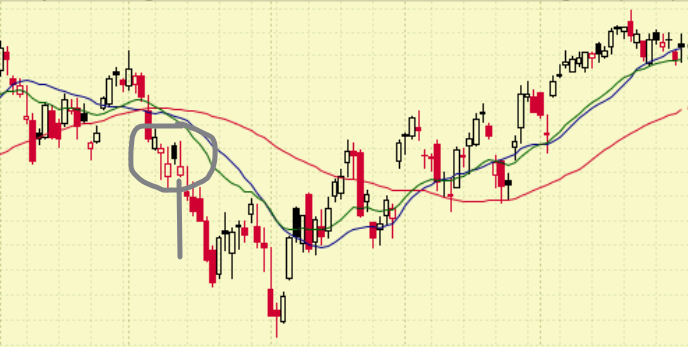 This post serves two purposes, the obviously being that if you look carefully you can see the subtle clues the stock market gives to signal that a trend change is coming, but also, it's important as a trader to go back and check your work. If you constantly analyze and hold yourself accountable, you will become a better trader in the future. The goal in the stock market is not to be right, but to make money!
For more market commentary, be sure to check back on our blog periodically.
How do you use charts to enhance your trading? Please share below …